We've looked at Windows clients for Twitter, so now it's time to look at what's available for the Mac. These are desktop clients, not browser plug-ins or mobile apps, though one or two of these will work on the iPhone or have an iPhone version.
Again, we're looking at popular apps that have a relatively large following and are the subject of regular commentary on the Web and through Twitter. We've narrowed the field down to three, plus one that's also available on other platforms and was covered in our last Windows installment.
These three clients are: Syrinx, Tweetie, and Twitterific. TweetDeck is also available on the Mac, but was covered in our Windows review of Twitter apps and is fundamentally the same on the Mac.
Syrinx (mrrsoftware.com/MRRSoftware/Syrinx.html)
This app shares its name with the pan pipes, an asteroid, and a Greek nymph. Those pan pipes are the client's icon. This is a very simple, clean interfaced client with a lot of features. Bookmarking tweets, robust searches, and the extremely useful "pause" feature are favorites amongst users. This app has an active core userbase, though it is the least popular of the three on our list.
Tweetie (atebits.com)
This client is extremely simple and very easy to use. It's one of the more popular Twitter apps for the Mac for this very reason. It's also available for the iPhone. It features some great little bonuses such as threading, multiple account access, and a very clean user interface. It supports itself through ads, but can be upgraded to an ad-free version for less than $20.
Twitterific (iconfactory.com/software/twitterrific)
Like Tweetie, this client is also ad-supported, but an ad-free version is available for about $15. This might be the most popular Twitter app for the Mac, and there's good reason for that. It's simple, clean, and supports a lot of keyboard shortcuts. It also tracks what you have and haven't read in your tweet stream, so unread tweets are highlighted.
There are many other Twitter apps for the Mac, but most of them are not full applications and many are just expansions of the basic Twitter website. By and large, though, the Twitter apps for the Mac are not following the "all in one" trend that PC apps are using to combine social networking sites.
Our final installment in this series will look at Twitter apps for the Linux platform.
Update: Because you asked, we're delivering.  Here is our look at Nambu for the Mac.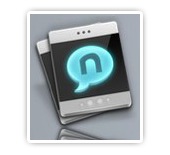 Nambu (nambu.com)
This app will eventually support FriendFeed, Ping.fm and so forth, but currently supports only Twitter. Nambu is a beta app with a small, but growing following.  It's strongest point, by far, are the multiple views that users can choose from, making their way to using Twitter unique to them. It also allows reply threading (optional), which is nice, though it can be confusing since it doesn't alter the timeline, so replies appear twice.